ATTORNEY PROFILE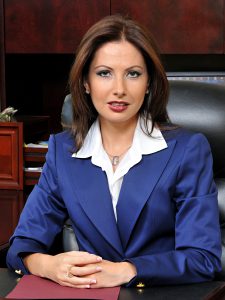 Inna Fershteyn is a principal and founder of the firm, Law Office of Inna Fershteyn and Associates, P.C.  She has served thousands of different clients and is one of the most experienced and leading Medicaid fraud attorneys in the greater area of New York and New Jersey.  Ms. Fershteyn earned a B.S. in Music Business and technology and went on to earn her J.D., cum laude from Yeshiva University's Benjamin N. Cardozo School of Law.
Ms. Fershteyn has practiced law at Am Law 100 firm Bryan Cave, LLP where she counseled and structured transactions for large multinational and publicly traded corporations in the area of corporate finance, and at Heller Ehrman White and McAuliffe, LLP where she served as head of the Associate Committee and joined the Trust & Estates department.
After practicing for those prestigious law firms, Ms. Fershteyn decided to found the Law Office of Inna Fershteyn and Associates, P.C. Her main areas of practice focus on Medicaid Fraud, Medicaid Planning, Trust and Estate Planning, Asset Protection, Will Probate, and Elder Law. Her clients range from individuals and entrepreneurs to privately held companies and large estates.
A New York State Certified Mediator, Ms. Fershteyn has negotiated and mediated more than 600 hours of business and commercial disputes.  Ms. Fershteyn is fluent in both Ukrainian and Russian. She has represented numerous United States companies and investors in their business dealings in the former Soviet Union, as well as Russian companies in their business dealings in the United States.
Despite her busy law practice, Ms. Fershteyn's activism extends beyond the law. She is heavily involved in the community. She helped establish the Menachem Educational Foundation, an organization that ensures that every Jewish child has access to the best education. She also organizes many charitable events including Chanukah at the Brownstone through Russian Jewish Family Club, an event which was attended by over 150 people. Ms. Fershteyn also served on the Board of Directors of Carl Marks Jewish Community House (JCH) of Bensonhurst from 2011 until 2013.
Ms. Fershteyn served as a volunteer for NYU Langone Pediatric Services Family Advisory Board at Sala Institute for Child and Family Centered Care from 2013-2016 and in 2016, she was appointed a Senior Family Advisor in a management capacity of the SALA Institute. In her free time, she works with children with disabilities and helping them and their families with legal and financial planning for their future.
Ms. Fershteyn is a President of the New York Association of Russian-Speaking Women Attorneys, and is also a Member of the Leadership and Safety Committee of the Edward R. Murrow High school.
Ms. Fershteyn's community awards and honors include the Eleanor Roosevelt Distinguished Service Award from the United Progressive Democratic Club; Certificate of Special Congressional Recognition for "outstanding and invaluable service to the community"; New York State Senate Legislative Resolution No. 1790 of 2009 in honor of Ms. Fershteyn; and a Citation from the Brooklyn Borough President.
EDUCATION
New York University (B.M., magna cum laude, Music Business and Technology, 1995);  Benjamin N. Cardozo School of Law (J. D., cum laude; Order of the Coif, 1998).
MEMBERSHIPS AND AFFILIATIONS
New York State Bar Association; New Jersey State Bar Association; Member of Brooklyn and Manhattan Mediation Centers; New York State Certified Mediator; Member of American Bar Association.